My husband found this pretty little flower out in the pasture. He dug it up and brought it home for me to plant in my flower garden. (So sorry about the picture quality.) It has a 1 inch double bloom and is highly fragrant ~ almost like lilac. Does anyone know what it is?
And while he was digging this bloom, he heard a "clink" so he kept digging. No, it wasn't an old lock box full of gold. Wouldn't that have been nice? But it sure was treasure!
He unearthed this old enamelware coffee pot. Isn't it lovely? The bottom has rusted through in a couple of spots so it makes a perfect planter.
I cleaned it all up, and now it holds a small potted ivy for my kitchen. I just love the red trim on it.
Our land had been owned by the same family for generations. It sort of got separated from their main parcel by the country road and so finally the owner chose to sell off this 16 acre parcel to us about 10 years ago. (Lucky us ~ well not really ~ the Lord just blessed us to pieces!) He tells us there was an old log house here that he sold many years ago. We continue to uncover evidence of the previous owners, and it is so exciting.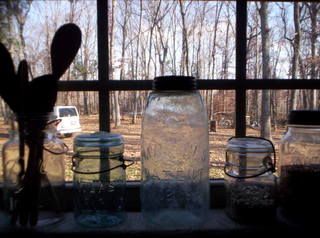 We found several old jars (the large ones) while on a hike as well. Just a wee bit of one of the jars was sticking up from the ground. So we got our trusty shovels and went to work. The result now lives on my kitchen windowsill where I can enjoy their beauty and restablish the history of this place. Who knows what we'll find next!
May your day be blessed,
Lea