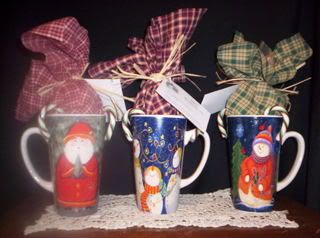 Here's a delicious recipe for those cool winter nights ~ and it makes a great frugal handmade gift as well.
1 c sugar
2/3 c cocoa
1 t cinnamon
1/4 t nutmeg
2 T instant expresso coffee
1/2 c dry milk

Combine all ingredients in a mixing bowl and blend well. Pack into tins or bags. Makes about 2 1/4 cups which is enough for 10-12 servings.
Attach a tag with the directions as follows:
3-4 T mochacchino mix
3/4 c milk

Combine mochaccino mix with milk in a saucepan. Bring to a simmer, whisk and heat 'til smooth & frothy.
I bought some lovely Christmas mugs this year. I packed the mix into sealable bags and wrapped them in homespun tied in raffia. I tucked the mix into the mugs and gave them to 3 very special friends! What fun!