Here is a wonderfully simple recipe that is perfect for breakfast or with a nice cup of coffee. It perfectly blends the tasty spices of the season!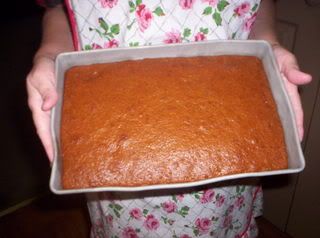 What you'll need:
2 eggs
1 cup brown sugar
1/4 cup oil
3/4 cup flour
3/4 tsp salt
1/2 tsp baking soda
1/2 tsp nutmeg
1/2 tsp cinnamon
2/3 cup canned pumpkin
What you'll do:
Preheat oven to 350 degrees.
In a medium mixing bowl, beat eggs. Stir in sugar & oil and mix well. Sift all dry ingredients and add them to the egg/sugar/oil mixture. Mix well. Add pumpkin to the mixture and stir well again. Pour into a greased 12x8 baking pan. Bake at 350 degrees for 30 minutes.
Remove from oven and cool completely. Then you can cut them into squares. They hold their shape nicely and look great on a nice serving plate.
All done! My boys & husband just love these so much that I have to make two batches if I intend to have one.
Credit for photo goes to Colton Blakney (10) ~ photographer in the making