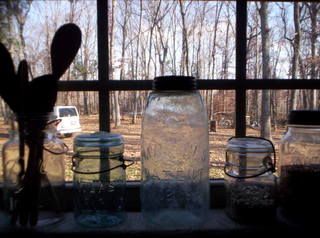 On a recent hike, Jeff & I uncovered buried treasure ... two antique fruit jars dated from 1880-1920 ... in perfect condition. They were dirty & root filled, but now they stand on my window sill ~ A pleasure to behold!
Sometimes we can spiritually be just like those old jars. We fall in a hole, get all dirty inside & out. But all we have to do is call out like David did, "wash me, and I shall be whiter than snow." And the Lord says in His Word, "though your sins be as scarlet, they shall be white as snow." It is
never
too late for a fresh start!